MDBC / Virtual Mission: Doing Business in Southeast Asia
Date

13 October 2020

Time

11:00 - 12:00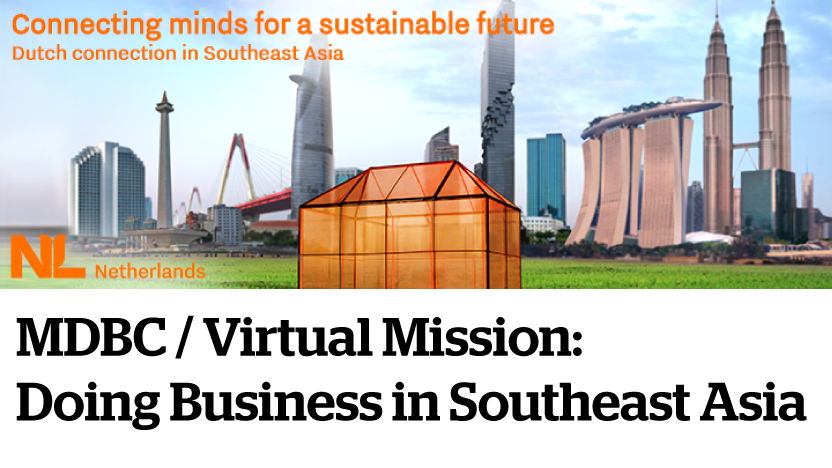 More about event
Dear MDBC Members,
There will be a Dutch virtual mission to Southeast Asia with webinar sessions and online matchmaking to learn more about the Dutch agrifood, water, and waste management sectors, and to meet new contacts.
On Tuesday, 13 October, there will be the first webinar session on Doing Business in Southeast Asia (ASEAN region).
Date: Tuesday, 13 October
Time: 17:00 – 18:00 hrs (MY Time) / 11:00 – 12:00 (NL Time)
Platform: Zoom
Language: Dutch
Please note that your participation is free of charge.

During this introduction session of the ASEAN region you will hear a range of speakers explaining the dynamics and importance (in the economic sense), as well as opportunities of, doing business with or within this region. All the relevant public and private stakeholders in support of Dutch companies will be briefly introduced. Examples of successful Dutch companies active in several countries within the ASEAN region will be shared to inspire you even further. Participating organisations include: Further East Consult, NLinBusiness, Paques, and 5 NL Business Hubs in Southeast Asia: MDBC (Malaysia), NTCC (Thailand), ADB-DutchCham (Singapore), DBAV (Vietnam), and DBN (Indonesia).
This webinar will be moderated by MDBC Executive Director – Marco Winter.
For more info about this Dutch Virtual Mission Southeast Asia, please click here. We also encourage MDBC members to register on the mission platform to stay informed on other activities and to be involved in matchmaking.
*Please note that representatives of Dutch companies in Malaysia – meaning companies with a Dutch Chamber of Commerce number (a so called "KvK nummer"), or with a parent company that has a Dutch Chamber of Commerce number – are expected to register as a full member of the Dutch trade delegation in this virtual mission. This gives you full access to participate in the whole mission program and extra matchmaking opportunities with Dutch and SouthEast Asian companies. Participation costs will be charged to your (parent) company in the Netherlands. For more information and registration, please check this link.